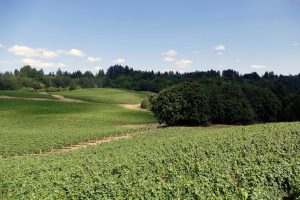 You've heard about thinking outside the box. This month we present a winery that goes far beyond that, thinking outside traditional vineyards, beyond a single winemaker and even crossing state boundary lines. And the result – as you will see from these two shining examples – is stellar wines that stem from outstanding winemakers paired with ideal growing regions for outstanding grapes.
Owned by three-decade wine industry veteran Jean Arnold, Kate Arnold Wines is the product of Family & Farmers, where a different winemaker with their own particular passion and demonstrated excellence for a particular varietal grows one particular wine. Additionally, whether it's Pinot Noir from Oregon or Sauvignon Blanc from California, the grapes themselves come from growing regions that promote the most long-term, sustainable grape sourcing to enhance the quality of each wine. Jean creates relationships with grape growers who want to diversify their client base to include smaller, family-owned companies like Family & Farmers. And of course, it is humble wine lovers like ourselves who benefit most. Our assessment of these unique collaborations is that they are…delicious.
Kate Arnold 2015 Pinot Noir, Willamette Valley, Oregon
Drawing from three Oregon vineyards, this brilliant garnet wine comes from 100% Pinot Noir, enticing the nose with blackberry and plum and hints of violets, balsam pine and vanilla. On the palate is a velvety, quintessential Pinot Noir of plum, rose water, star anise, cardamom and vanilla that finishes with gentle tannins for this mid-heft wine. It makes for a lovely wine to pair with a smoky, grilled, rosemary-tinged leg of lamb or fennel-laced Italian sausage and tagliatelle.
Kate Arnold 2016 Sauvignon Blanc, California
This gorgeous "pearl star"-tinged100% Sauvignon Blanc is a treat for all the senses. With aromas of luscious citrus mixed with hints of freshly cut hay and tropical undertones, this is the way Sauvignon Blanc is meant to be! The beautiful sensual introduction is matched by flavors of perfectly ripe grapefruit with lime zest, green fig, black tea and a playful minerality that is wonderfully refreshing as we adjust to these warmer days of summer. This is a crisp, balanced wine that builds in the mouth, but finishes bright and clean – a product of grapes that come from three vineyards providing depth and impressive quaffability to this white wine. Such a perfect match for grilled spring trout, zesty fish tacos with a mango-jalapeno salsa, or seared ahi.
Photo credit: Kate Arnold Wines