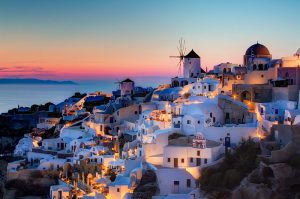 Those sparkling sapphire Aegean waters. They lure tourists to seaside towns and ABBA fans to continue watching the movie, Mamma Mia, even when the music doesn't meet our expectations. The good news is Greece does, especially these Greek wines. The seductive beauty of Greece, we're happy to say, is not just skin deep, as evidenced in these alluring wines – one red and one white – that we are so happy to introduce to our discerning wine club members this month.
It's September. And just as our children return to school to resume their education, it seems like the perfect time to also educate ourselves about a couple of less familiar wines from a region that often gets overlooked. Don't discount the Greeks, who have been making wine for anywhere from 4,000 to 6,500 years, depending on who you ask. Yes, the varietals this month may be hard to pronounce, but we promise wines that go well with food and offer not only lovely flavor, but a wholly sensuous experience. After a glass or two, we easily concluded that this might be our favorite kind of Greek lesson, and certainly the most delicious.
2017 Tsililis Askitikos Assyritiko, Thessaly, Central Greece
From a winemaker that has received many awards comes the crisp, minerally, citrus-edged Assyritiko. Cultivated in the clay-sandy soil around Meteora Rocks and the prehistoric Cave of Theopetra, this brightly lemon-green colored wine starts off with fruity aromas of lemon, lime, mango and pineapple. True to form for this varietal, it provides uplifting minerality, refreshing acidity, citrus flavor and a long finish. It's a full-bodied white wine, and with its citrus notes, makes a perfect match for seafood, whether it's grilled lobster tail or a mango salsa-laced grouper filet. Wine Enthusiast rates it a 90.
2015 Gentilini Notes Red, Peloponnese and Kefalonia, Greece
Agiorgitiko wines are known to be lush, velvety reds with black cherry notes. In this case, the winemaker has blended 80% Agiorgitiko with 20% Syrah and Mavrodaphne grapes, grown in limestone-rich soils to make for an enticingly balanced and captivating wine. Gentilini Red is a complex, medium-bodied wine that is enjoyed because of its many layers. It's fresh and fruity, but also with sour-cherry and spicy flavors, velvety tannins and a long finish. On the nose are intense aromas of red berries, pepper, mocha and vanilla. It's a versatile, food friendly wine – a great match for those end-of-summer barbecues or your first roasts of autumn.
Photo credit: Pedro Szekely via Wikimedia Commons