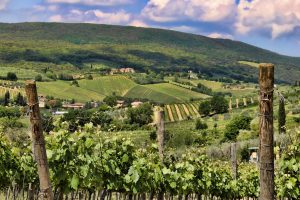 There are many times of year to marvel at the beauty nature provides us, but we chose August to do so…through wine. One might even say that this month's Inspired Wine Club selections are a quaffable ode to Mother Nature. Our red is itself inspired by the mythological Roman god of nature, il fauno, whose statue presides over the diverse estate that produces this work of art. The white comes from a small organic winery that is beginning to practice some earth-friendly biodynamic methods as well. (Biodynamic means not only no synthetic chemicals, but using only materials from the vineyard to produce the wine and yield to special harvesting times that align with weather and natural indicators.)
Both wines are Italian and will most certainly captivate your senses, your passion and your imagination. They are perfect for your final vacations of the summer or just relishing on your home patio alone or with friends. So, this month, we toast to the beauty of sunny August days and cooling summer nights with their soundtrack of humming cicadas in the trees.
2014 il Fauno di Arcanum, Tuscany, Italy
Super Tuscan it is! This Merlot-dominated (72% Merlot) wine will also feel a bit Bordeaux-esque as a blend with 20% Cabernet Franc, 4% Cabernet Sauvignon, and 4% Petit Verdot. It's a luxurious red with a nose of bright raspberries, wild berries and lavender notes. On the palate, it holds soft tannins and a slightly higher acidity that helps bring out notes of blueberry and sour cherry. The finish reveals exotic spices (think cardamom) and sweet black licorice, resulting in a strong-bodied, beautiful wine that is just waiting for you to serve it up alongside a bit of gorgonzola and charcuterie, or to complement that perfectly seasoned Porterhouse steak hot off the grill.
2013 Cesconi Manzoni Bianco, Trentino-Alto Adige/Sudtirol, Italy
An opportunity to try out another varietal, this 100% Manzoni Bianco is the product of Riesling and Pinot Blanc grapes. Though not prevalent, Manzoni Bianco exudes elegance, having good alcoholic strength and acidity reserved for the best wines. The handpicked grapes are partly pressed after a brief cold maceration, and fermentation takes place in stainless steel vats, followed by an aging period of around eight months on the lees before bottling. The Manzoni Bianco is filled with notes of allspice, pear, and honeysuckle, with a touch of vanilla. It's perfect for the August weather, pairing nicely with spicy, flavorful dishes such as a coconutty panang curry or zippy, barbecued spare ribs.