Valentine's Day is just around the corner, making February one of the most romantic months of the year. A month of sonnets, love songs, roses and chocolates, this is a perfect time to stay in from the snow, in front of a crackling fireplace, perhaps with your favorite blanket ensconcing you and your beloved with – what else? – a fabulous bottle of wine…or two. To help create just the right tone for such an experience, this month's Hinsdale Wine Club provides two wines that will surely bring the romance of Italy to your table.
The first wine pays homage to possibly the most famous (or infamous) white grape from Italy, Pinot Grigio. We follow up that with what is affectionately referred to as "the King" of Italian wines, a delicious Barolo! You now have quite a dreamy choices of wines to share with your beloved that will have you singing 'That's amore!' all day long.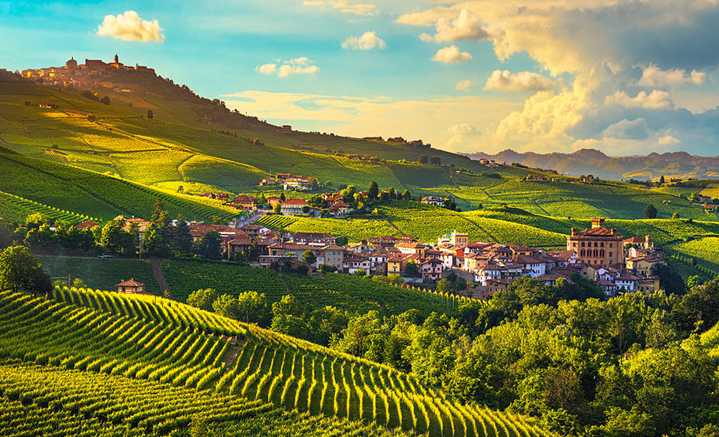 2019 Lagaria Pinot Grigio, Veneto, Italy
Straw yellow in color, pleasant floral and fruity aromas of apple, apricot and pear. Medium-bodied, with refreshing fruit, distinct character and balance. Pairs well with fish, especially salmon, halibut and swordfish; also pasta and white meat. The winemaker suggests fried fish, seafood, fowl and typical Mediterranean pasta and risotto dishes. Bottle Price: $12.99 /bottle; Wine Club: $11.69 /bottle
2017 Marco Parello Barolo, Piedmont, Italy
This Barolo has some clean raspberry and goji-berry character. Intense ruby red with bold notes of cherry fruit and violet that carry from the aromas through the palate. A classic, elegant, full-bodied Nebbiolo in structure pairs best with second or third courses in dinner and shows particularly well with red meat. A clean, fruity finish and a bit chewy right at the end.
Bottle Price: $34.99 /bottle; Wine Club: $31.49 /bottle