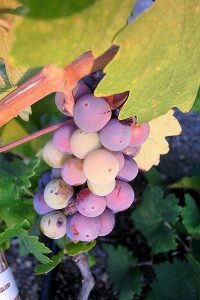 We tend to think of Zinfandel as the all-American grape because California (and other states, now too!) have taken such complete ownership of this varietal. But, in fact, Zinfandel is the same grape as Italian Primitivo, offering us that same big, bold red wine that we have come to enjoy with platters of our strongest cheeses or enhancing the likes of a robust, garlicky Tuscan steak. So, does the same grape equal the same sensory experience whether it's New World or Old? Maybe not.
This month, we leave it to our discerning Inspired Wine Club members to decide as we offer the duo an opportunity to face off in your favorite wine goblets la vostra casa. Personally, we think they're both winners, but we know you'll enjoy sussing out the differences and relishing their most obvious similarity of being gorgeous, quaffable reds that are just the right taste sensation for your special April occasions.
2015 Alceo Primitivo, Salento IGP, Puglia, Italy
With 100% Primitivo grapes, this intensely ruby-red wine is indeed quite a gem. After fermentation in steel, the wine remains for a few months to refine in the bottle, producing an alcohol level limited to just 13.5%. Greeted with an aroma of ripe red fruit, red flowers and spices, this wine is full-bodied, complex, intense and pleasantly tannic. The very long finish of ripe fruit and spirit completes a luscious and balanced wine that marries perfectly with rigatoni, roasted peppers and zippy Italian sausages.
2015 Mettler 'Epicenter' Old Vine Zinfandel, Lodi, California
The first difference you'll note in this all-American Zin is that it is actually a blend with a solid 85% base of Zinfandel, accompanied by 10% Petite Sirah, 3% Cabernet Franc and 2% Cabernet Sauvignon. A wine with an alcohol level of 15.5%, this beauty originates from a 50-year old vineyard in the 'epicenter' of Lodi's old vine Zinfandel district – organically and sustainably grown. Right off the bat, you'll admire its deep, purple crimson color and earthy, smoky aromas. On the palate is a medley of plum, blackberry jam, tobacco, anise and sweet oak. Sturdy, but softly integrated tannins yield to subtle oak notes. The light acidity creates balance and elegance while retaining its juicy, exuberant, uniquely Zinfandel personality. We love it with a hearty Tuscan white bean stew served with crusty bread, but it's a delight with a breadth of robust fare.