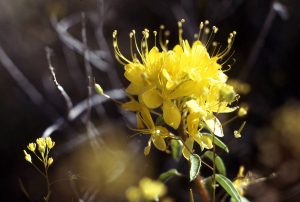 Whether from Willamette Valley or Walla Walla, some of the finest "cool climate" varietals are now being produced in the United States. Pinot Noir, Pinot Gris, Riesling – these are just a few varietals that flourish in the lush environs of Oregon and Washington State. Still, we continue to be resistant to treating our taste buds to so many of these beautiful, homegrown wines. These wines get hands-on attention to bring out nuanced flavors, mesmerizing aromas and alluring mouthfeel that will quickly open your mind to the beauties coming from winemakers in the Northwest United States. Consequently, it was with this in mind that we found a pair that seemed like the perfect match for our discerning wine club members to warm up the budding spring season. March is rough with spring revealing itself in fits and starts. Here are some lovelies to bridge us all to a beautiful, flower-filled, wine-filled April.
2016 Elouan Pinot Noir, Rogue Valley, Oregon
This full-bodied Pinot Noir provides a unique depth of flavor, vibrancy and suppleness, making use of fruit from three regions along Oregon's coast: Willamette, Umpqua and Rogue Valleys. These diverse, cool-climate areas combined with an elongated growing season create wine with memorably intense structure, while maintaining a vibrant acidity that will really differentiate it from other Pinot Noirs. Your nose will be treated to earthy aromas of rich, ripe dark plums, red cherries and black currant jam with subtle touches of pepper spice, mushrooms and a hint of vanilla. On the palate, the wine's lushness reveals as dark fruit framed by a velvety mouthfeel and subtle tannins. The good structure, depth of flavor and soft tannins balanced by a fresh lingering acidity will pair this wine quite well with heartier fare than many Pinot Noirs. Not just for turkey feasts anymore, this wine is a lovely match for those roast pork tenderloin medallions with porcini cream sauce alongside tender fingerling potatoes.
2015 Seven Hills Winery Pinot Gris, Columbia Valley, Washington
Located in the heart of Walla Walla, Washington, Seven Hills has helped to champion the rich diversity of the region since its founding in 1988. Seven Hills Winery has developed a reputation for balancing structure and grace, and this Pinot Gris is a lovely example. With restrained oak, bright acidity and pure varietal flavors, this terroir-inspired wine is recognized as what is so great about Northwest U.S. winemaking right now. With just a tinge of pink, this wine is a beauty in the glass, introducing the nose with hints of kiwi, lime and lovely floral notes. A richness of peach, pear and apple will greet the palate with tannins that provide balance to the wine overall and on the finish. This is a perfect match for an avocado salad dressed with citrus vinaigrette, and marries well with some grilled calamari or pan-fried river trout. Springtime will seem ever-the-more lovely after a glass of this delight.
Photo credit: National Park Service