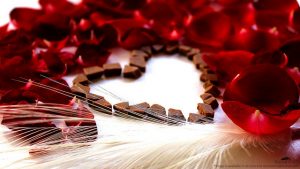 It's February, the month for lovers and when St. Valentine tries to make romantics of us all. But why should cupid have to go it alone? This month, the Hinsdale Inspired Wine Club is prepared to provide several splashes of red and pink to brighten up this heart-felt occasion with beautiful, quaffable wine from Provence and Argentina. Yes, two countries known for their fiery passion! So, let the sparks fly during that candlelit dinner for two where the wine sets the mood for a night of romance.   Or, of course, you can just enjoy these amazing wines for their own sensual merits on any occasion…
2016 Figuiere Premiere Cotês de Provence Rosé, La Londe les Maures, France
Who says rosé is just for summertime? With 50% Mourvèdre, 25% Cinsault and 25% Grenache, this is the perfect wine to transport your loved one on a sensory trip to southern France, offering wafts of the unique terroir of coastal Provence. Première Rosé may just be the perfect way to start your romantic evening, offering complex aromas and flavors of nectarine, thyme and lavender, and white flowers. It's fresh. It's gorgeous and completely reminiscent of the Mediterranean's cooling breezes. The complexity that comes from an underpinning of the schist soil's salty minerality makes for a delightful wine with bright acidity. Pairs well with light starters, such as a smoked bluefish spread on crackers.
Catena Alta Malbec 2014, Argentina
Here is a luscious red that could win over any sweetheart. Made from 100% Malbec grapes, this world-class quaffer earned 95 points from James Suckling and 93 points from Robert Parker. An earlier than usual harvest resulted in a wine with a bit less alcohol than the previous vintage and slightly higher acidity. This is a magnificently textured wine with ripe berry fruit flavors accompanied by layers of cinnamon and spice. The impressive mouthfeel and resonant acidity will leave you wanting more…much more. Enjoy it with a tender, petit filet mignon or with a nice cheese plate by the fireside with your beloved.