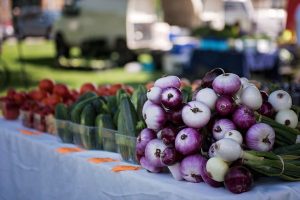 It's perhaps the most perfect time of the year for a farmer's market: speckled green zucchini; bold, bright yellow summer corn, deep purple aubergines, the sweet-tart aroma of the season's juiciest peaches and an array of tomatoes that offers its own show from heirloom to new hybrids. No question about it, August is a delight for farmer's markets. So, it seemed particularly fitting to choose wines for our Inspired Wine Club that offered that same zest, color, aroma and overall sensory delight we have come to know and love at the local farmer's market. Lucky for us, we discovered FARM Napa Valley. This month, we present a chardonnay and a cabernet that will pair as well with your farm-fresh produce as they do with the proteins they accompany in your favorite summer meal. And yes, it would seem that this "harvest" is definitely a quaffable one.
2014 FARM Napa Valley Chardonnay, California
Picked at night to maximize acidity, the wine begins with a nose of honeysuckle mingling with pink grapefruit and zesty key lime. Rather than strong oakiness on the palate, one is greeted with bright notes of baked lemons that lead into smooth, rich flavors of lavender honey. The barrel aging comes through on the finish as the vine-to-bottle flavors linger in the rounded mouthfeel of this carefully hand-crafted wine. Not your typical chardonnay, this wine doesn't overwhelm more delicately flavored summer fare, such as Maryland-style crabcakes alongside a fresh corn salad with tomato, feta and mint.
2014 FARM Napa Valley Cabernet Sauvignon, California
What's better with a fresh-off-the-grill steak and potatoes than a fabulous California cabernet? And that's what we've provided here. With incredible attention to detail in choosing and harvesting the grapes, John Anthony Truchard has produced a wine that of course marries well with beef, but is equally enjoyed as a sipper in its own right. One sniff of the 2014 vintage recalls macerated raspberry and blueberry with hints of licorice, potpourri and sweet cigar. A sip and a swish, and the palate is treated to a blast of cassis, mixed with tinges of mocha, five-spice and vanilla bean. Truchard ages the wine for nine months in new French and American oak, resulting in a smooth, entrancing wine with fine-grained tannins, and a finish that simply beckons for yet another glass.
Photo credit: Pamjpat via Pixabay